By Dr. James Christie, Ambassador-at-Large, Canadian Multifaith Federation
Back in the day, that is to say, once upon a time, when our boys were young and so were we, parents of our generation would count down to special occasions by numbering "sleeps".  I imagine, in North America at least, the custom is familiar to you.  You know: just 10 more sleeps 'til Christmas; just 5 more sleeps until your birthday; just 7 more sleeps 'til summer holidays.  I still think that way; sometimes.  Sometimes, I even think that way backwards.
For example, during the recent G20 Interfaith Forum, hosted out of Saudi Arabia, with the virtual platform managed in Vienna, and with participation girdling the globe, I recalled the number of sleeps that had passed since this whole grand adventure began.  I calculate something in the order of 5,478 (+/-).  Or, if you prefer, 15 years.  Sometimes, the 15 years seems like an ancient epic; sometimes it feels like last week.  Of course, like many things in life, it's both.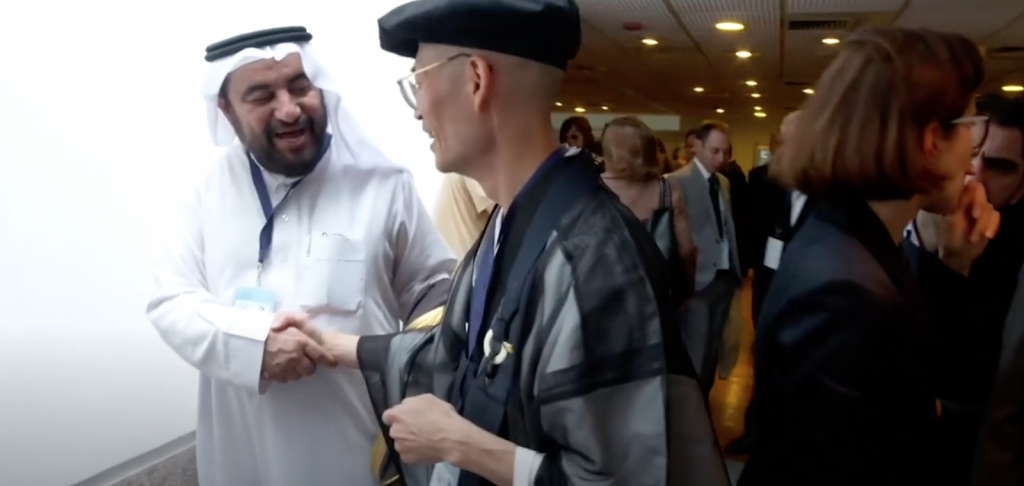 A 15-Year Journey
For further reading, both the scholar or the disciplined casual reader can do no better than to consult Moral Pressure for Responsible Globalization: Religious Diplomacy in the Age of the Anthropocene, by Dr. Sherrie Steiner of Purdue University.  Dr. Steiner is the designated historian of the G20 Interfaith Forum Association (IF20).  In her ground-breaking narrative, she chronicles and assesses the G8/G7/G20 political religious engagement in terms of the emergence of the IF20.  It is a fascinating journey; replete with twists, turns, and surprises.
In the pandemic-ridden world of 2020, it has to be said that the Saudi-based IF20 last week was an extraordinary success.  For over a year, the four principal partners—IF20, KAICIID, UNAOC (UN Alliance of Civilizations) and the Saudi host committee—laboured in the planning and execution of one of the premiere international "virtual" symposia ever convened.  In the event, 150 international religious and policy experts presented in 6 plenary sessions and twelve panels.  More than 2,000 participants were registered worldwide. IF20 President, Prof. Cole Durham, his Advisory Council, and the organization's partners have every reason to be pleased.  They are inspired to work not only for the next IF20 iteration in Bologna, but throughout the coming year to develop and nurture the network and initiatives which are making the IF20 a daily contributor to the Jewish mandate of "Tikkun Olam": the mending of our wonderful and wounded world.
The current iteration of these global Fora of religious leaders and policy-makers began in Gold Coast, Australia, in the autumn of 2014.  That gathering was convened through the inspiration and at the initiative of Dr. Brian Adams, Director of the Centre for Interfaith and Cultural Dialogue of Griffith University in Brisbane, Australia.  This initial forum was succeeded in Istanbul, (2015); Beijing (2016 – now there was history); Potsdam (2017); Buenos Aires, (2018); Tokyo and Kyoto (2019); and Riyadh (2020).
But the very beginning was back some 5500 sleeps: with a lot of dreaming.
In 2005, then Archbishop of Canterbury, Rowan Williams, and Jim Wallis, Evangelical founder of Sojourners, conceived a new way for world religions to relate to world politics.  They believed, as we still do, that the world's religious and spiritual traditions comprehending, so the Pew People tell us, over 80 % of the world's peoples have a positive contribution to make to our common planetary future.  True, our legacy has been somewhat mixed. Should you wish a horrifying introduction to the dark side of Western Christianity, turn to Philip Jenkins' The Great and Holy War: How WWI Became a Religious Crusade.  Jenkins documents the instrumentalization of one particular religion to wicked ends.  The highest ideals, hopes and dreams can fall prey to the perversity of humanity's perpetual quest for power: a quest always diametrically opposed to religious and spiritual tenets.
The initial G8 gathering in Lambeth (2005) was succeeded in 2006 in Moscow.  Cologne (2007) marked a course correction with a return to participant-led organization and programme development. Then came Kyoto and Sapporo (2008); Rome (2009); Winnipeg (2010); Bordeaux (2011); Washington (2012); London redux and virtually (2013).
Thus, a full cycle of G8 Summits was accompanied by "shadow" religious gatherings becoming the more expansive and "real politik" G20 Forum in Australia in 2014.
Persistence of Presence
I was nominally connected from the beginning, but first participated at the planetary "roundtable" in Cologne in 2007.  It was there that the Right Reverend Christopher Hill, then Archbishop of Guilford, called for "consistency of content" in our work.  We adopted the Millennium Development Goals as our "Rosetta Stone", providing a common language between the world of religion and the world of global policy.  On the heels of Christopher's call, I proposed the principle of "persistency of presence."  We were, and remain, convinced that our credibility rests on these two principles.
So they have.  So they do.  Consistency (now the Sustainable Development Goals which succeeded the MDG's in 2015) and persistency of presence annually remain foundational to our movement.
And the verdict?
Well, you can follow the Riyadh Forum on KAICIID's YouTube channel.  But, the conclusions have remained constant since 2005.
Religion matters.
Cooperation among religious, spiritual, and faith-based organizations is essential.
A place at the world's table for trusted religious leaders means effective world-building and people-making throughout our global neighbourhood.
Pretty effective dreaming for a mere 5500 sleeps, more or less.
Imagine when the dawn finally comes!
Dr. James Christie is the inaugural Ambassador-at-Large for the Canadian Multifaith Federation and part of the G20 Interfaith Forum Board of Directors. For 15 years, Christie served at the University of Winnipeg as Dean of Theology, Dean of the Global College, and Director of the Ridd Institute for Religion and Global Policy.