By Dr. James Christie, Ambassador-at-Large, Canadian Multifaith Federation
– – –
No, I am not temporally disoriented.  As a warming sun floods my writing space, I am aware that the winter solstice is long past; the rites of Spring prevail.  Neither am I Christmas–obsessed.  I take Charles Dickens' passionate promise 'to keep Christmas in my heart all year round' very seriously, but I hardly resemble one of those ubiquitous Christmas stores scattered through much of the western world which offer carols and ornaments every business day available.
I am of a generation for which the Christmas season was heralded, shortly after Halloween, by crooner Andy Williams' predictable yuletide television special.  There was our Andy, sweater-clad, advising audiences that "It was the most wonderful time of the year!"
No, it's April, and I have just forwarded the requisite documents from 2020 to my accountant in order for her to file my personal income tax.
Where We Are, What We Have
That's right.  I am paying taxes, and it's the most wonderful time of the year.
Madness, I hear you mutter.  But bear with me.  There are reasons behind my madness.
To begin, accounting each spring for my financial life in the preceding year affords me an opportunity to take stock: of what I was doing to earn that income; of politics espoused; of charitable causes supported; of plans for the future.
In filing my tax return, I am given an opportunity for simple gratitude.  I am invariably grateful that for another year at least, grace, or fate, or something, permitted me to have an income worth taxing.
Paying taxes is one way we locate ourselves in our society; a way of quantifying our modest stake in the world around us—only one way, mind.  For nine years, Canadians were self-burdened (we are a democracy or at least a proto-democracy) by a Prime Minister who persisted in referring to us as either taxpayers or consumers.
I resent both labels.
We are citizens.  Among myriad other corporate interactions, we pay taxes and consume goods.
But, we are citizens: of our communities; of our regions; of our provinces; of our nation; of our world.
The income tax return is proof of that irrevocable privilege and responsibility.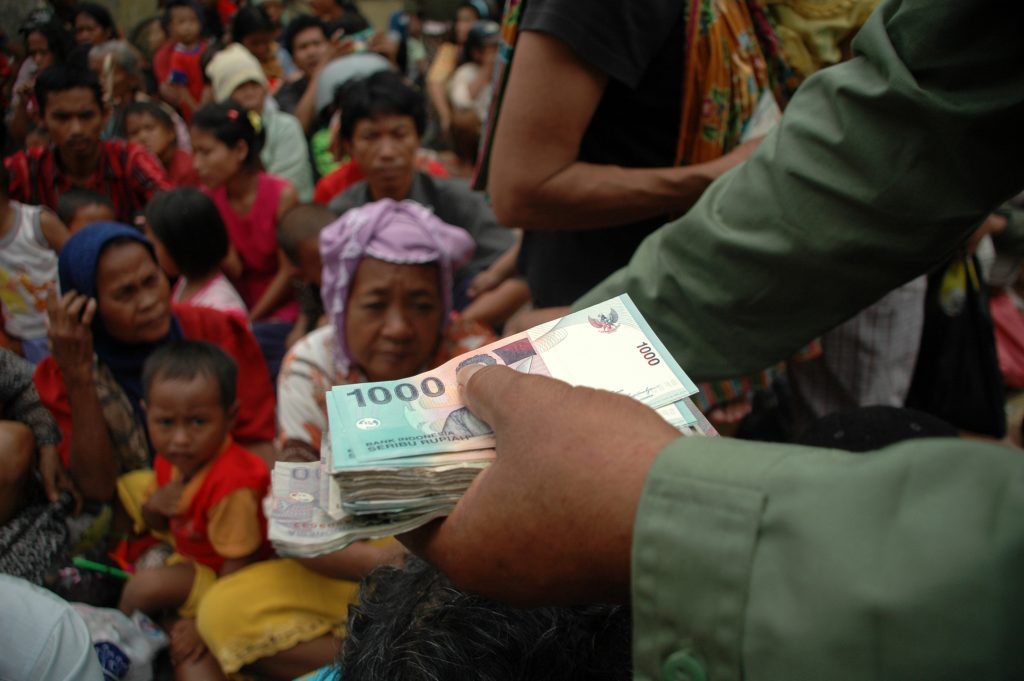 Citizen Engagement and Its Power
I am all too well aware of the millions worldwide to whom that privilege is denied, and who must, by ways yet to be imagined, be enfranchised. 'Citizens all' might be a suitable planetary watchword for a campaign to ensure that all people might someday be granted the status of 'citizen.'  The late Gary Davis, lauded as the founder of the world passport and recognized as World Citizen Number One, would have concurred.
By virtue of being citizens who also pay taxes – income tax or ubiquitous sales tax – we all have a stake, no matter how modest, in this great enterprise we call society.
Society is a boat, especially in a democracy, in which we all sail together.  Keeping the Ship of State afloat requires all hands on deck, whether at the tax accountant, or the ballot box, or by employing responsible media to remain aware of the seaworthiness of our vessel.
All right; enough with the marine metaphors.
Our society is not simple.  Hence, it not only thrives on the broadest possible citizen engagement; our society survives only because of that engagement.
Our Siblings' Keeper
For some of us, there is even a religious dimension to preparing and filing a tax return.
Many of our faiths enjoin us to care for our neighbor.  We are, referring to the Hebrew Torah, our siblings' keepers.  Any question of that is purely rhetorical: theologically, socially, and politically.  A tithe, or one tenth of our wealth, is to be set aside for others.  This notion was considered normative in the agrarian cultures of humanity's childhood.  The equitable distribution through taxation of the shared bounty of our complex societies, coupled always with private contributions to the common good, today constitutes a responsible tithe corporately achieved.
Outside my window, birds perch at the feeder, sharing food; others pluck alpaca wool from a suspended frame to line and warm nests for a new spring-born generation.  As I watch, I reflect that with care and effort, there is enough to go around: enough for everyone.  As you and I sign our tax declarations, we play a small part in ensuring that is so.
And that's wonderful.
– – –
Dr. James Christie is the inaugural Ambassador-at-Large for the Canadian Multifaith Federation and part of the G20 Interfaith Forum Board of Directors. For 15 years, Christie served at the University of Winnipeg as Dean of Theology, Dean of the Global College, and Director of the Ridd Institute for Religion and Global Policy.