By Alison Ussery, Link International
—
As news broke of the invasion of Ukraine by the Russian Federation in February 2022, Europe was immediately faced with one of the fastest-growing refugee situations in recent history, as people began to flee the conflict zones and into the bordering countries. Along with the urgent need to assist those escaping the war, serious concerns were raised about the risks of human trafficking faced by these displaced and vulnerable people.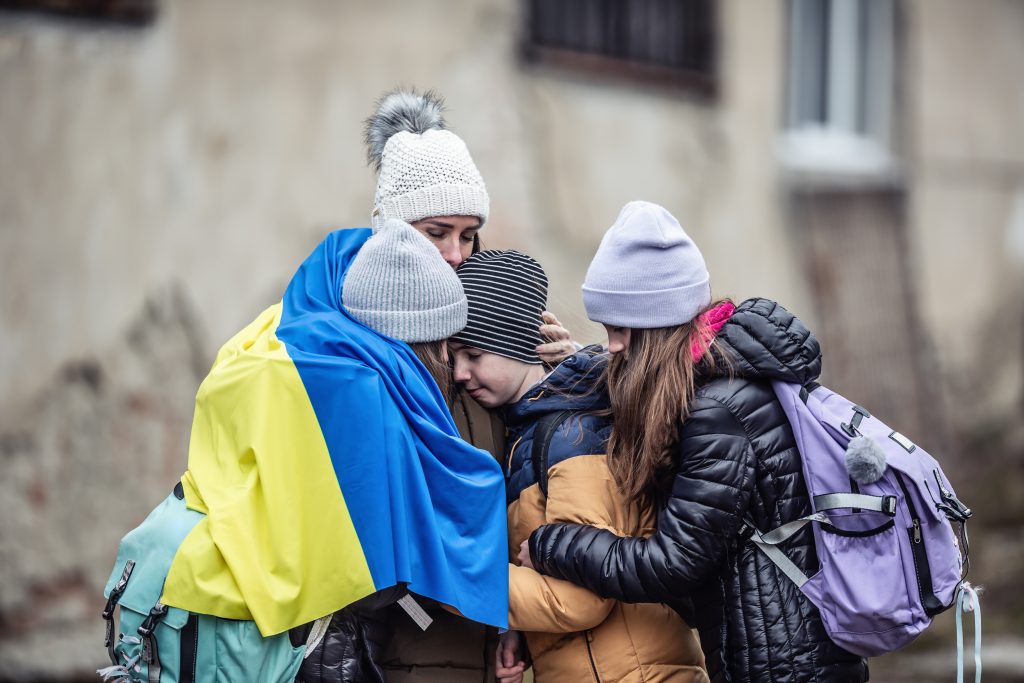 A Monumental Opportunity for Exploitation and Trafficking
There was an incredible immediate response from the bordering countries of Ukraine, which are Poland, Slovakia, Hungary, Romania, and Moldova, who 'opened their arms' in providing emergency shelter, food and clothes, transport, and health needs.  Charities and people of goodwill rushed to the borders to help, but so did the criminals and traffickers.  As the exodus began, there were no formal checks in place, and while most people where there to help, it was also an opportunity for organised criminal networks to seize the chance to profit from the situation by offering fake jobs and opportunities to earn money in Europe.
Initially, the Ukrainians who had the means to leave the country travelled across international borders in their own vehicles, carrying some of their possessions and money to be able to move on to other parts of Europe. As time went on, scenes of desperate people hit our TV and computer screens along with the harrowing accounts of what these women and children had to endure to find safety – including accounts of sexual abuse, rape, and violence.
Vulnerability: The Numbers
On March 16th, 2022, the UNHCR stated that "90% of the refugees who had fled from Ukraine since 24th February 2022 are women and children"[1].  By the middle of April, "two-thirds of children in Ukraine have been displaced from their homes… many of these children have been living in bunkers as their towns and villages are bombed; those who have escaped to neighbouring countries are also coping with emotional trauma."[2]
Trauma and vulnerability are major factors that increase the risks of exploitation, and suddenly millions of displaced individuals were forced to flee for their lives, leaving behind the security of their homes, their language, their jobs, and their families. In most cases, women and children travelled without their husbands, partners, and fathers across borders, not knowing where they would end their journey and who would help them.
Within the first two months of the conflict, more than 5 million people had fled the country to find refuge elsewhere, and more than 7.7 million people had been internally displaced within Ukraine, with the numbers continuing to rise every day.[3]   By May 14th, 2022, the Independent Newspaper stated that the number of refugees outside the country had exceeded 6 million people.[4] As these refugees travelled, they faced the risks of being coerced, tricked, and trapped into situations of sexual exploitation, forced labour, domestic servitude, and other forms of modern slavery as they moved into unfamiliar countries to find safety and security.
Sex Trafficking and Exploitation
Since March, there has been a huge increase in the online advertisement for explicit content and sexual services from Ukrainian women and girls.  According to the Organization for Security and Co-operation in Europe (OSCE), "The online search traffic for 'Ukrainian porn' increased 600% since the start of the humanitarian crisis, while searches for 'Ukrainian escorts' increased 200%. These data confirm a spiking demand for sexual access to Ukrainian women, and this demand will serve as a strong incentive for traffickers to recruit and exploit Ukrainian women at scale"[5].
Human trafficking is a serious crime which was already taking place throughout Europe; and prior to the conflict Ukrainian nationals have been victims of trafficking for forced and exploitative labour, internally as well as in 'Russia and Poland and as far away as South Asia and the Middle East'. [6]
Organized Efforts to Safeguard Refugees 
Organisations in the region with well-established anti-trafficking programs, along with an understanding of the risks to the displaced Ukrainian families, created and distributed materials highlighting the dangers and signs of trafficking to inform and raise awareness for those travelling, distributing them through charity workers, church groups, and individuals who had reached out to help.
The European Freedom Network (EFN) was one of the first organised groups to get onto the ground in all of the bordering countries through their network of partners.  Within the first six weeks, EFN distributed over 100,000 multi-lingual leaflets and posters including QR codes, initially at the border crossings and later in the transit points of railway and bus stations throughout Europe. In partnership with the European Evangelical Alliance, EFN has continued to drive the response for many faith-based organisations throughout Europe by leading training sessions on trauma care needs, providing accommodation and support for refugees, and bringing together organisations to share and collaborate in weekly information-sharing meetings.  EFN recently published 'Top Tips' for caring for the Ukrainian families through a 'trauma informed approach,' which is an excellent resource for all.[7]  EFN also contributes to the United Nations Anti-Trafficking Working Group on a regular basis as the crisis has continued.
On March 18th, a UNHCR spokesman stated that "given the very high protection risks, UNHCR and partners are disseminating key information and awareness raising messages to alert refugees of the risks of trafficking, exploitation and abuse.  Protection from Sexual Exploitation and Abuse (PSEA) Coordinators … have set up protection coordination structures with other partners and national authorities to ensure an efficient and coherent approach."[8]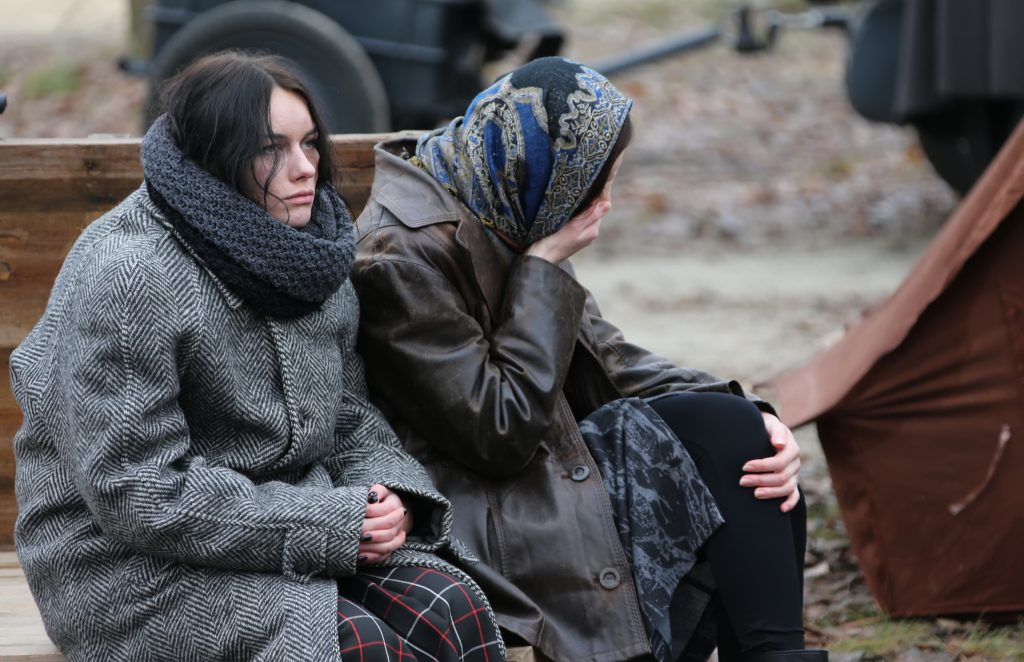 Efforts by Charitable Organizations and Governments
Many charitable organisations have provided information, training, and awareness about the risks and signs of human trafficking to sponsoring hosts, churches, and those working with Ukrainian guests.  For example, Link-international.org has facilitated online sessions in the UK for the North Wales region highlighting the types of exploitation and needs for safeguarding families as they arrive, begin to settle, and look for work and stability.[9]  The Sanctuary Foundation[10] in the UK brought together experts to develop and launch a comprehensive course on safeguarding, trauma, cross-cultural communication, and other relevant subjects to train and prepare those working with and hosting refugees.
Since the beginning of the conflict, a great deal of work has been done by governments, international organisations, charities, and faith groups throughout the continent of Europe as those displaced by the war continue to travel and find places of safety.  The risks of trafficking and exploitation are not limited to the start of these journeys, for criminal networks are highly organised and adaptable enough to prey on individuals at any time.
Targets and Speed of the Anti-Trafficking Response
Freedom Fund and La Strada International published a rapid assessment report focusing on the risks, the gaps, and the needs within the response to the trafficking concerns.
One area of research highlighted 'those in greatest danger', and these include unaccompanied children, women and girls, undocumented people, those who already experience discrimination (including the Roma and disabled), and those who might not have access to the temporary protection offered in EU countries.[11]
As a result of the legacy of knowledge and good practice by so many anti-trafficking organisations, information was made available within days of the beginning of the crisis, and it is hoped that this will have protected many people.  The work is not over, however, and as the war continues to devastate Ukraine and the lives of its people, there is so much still to be done.  Trauma awareness and care must be a priority to support individuals as they struggle to come to terms with what they have experienced and what is yet to come for their families and their country.
Resources to Support those at Risk
There are now various publications and research reports providing advice and guidance on supporting those at risk.  One of these is the 'Guidance Note on Addressing the Risks of Trafficking in Human Beings Related to the War in Ukraine and the Ensuing Humanitarian Crisis,' published by the Council of Europe's Group of Experts on Action against Trafficking in Human Beings (GRETA).[12] This document lays out many recommendations to identify and tackle the issues of the current crisis.
The United Nations Office on Drugs and Crime (UNODC) concluded its research report in March by stating:
"While efforts to find a resolution to the war are ongoing, concerted and evidence-based measures by the international community, as well as by state and non-state organizations, can ensure that vulnerabilities to trafficking in Ukraine are alleviated, by ensuring access to safety and essential services. For people fleeing Ukraine and seeking safety in neighbouring countries and further afield, legal entry and legal status are crucial in preventing both migrant smuggling and human trafficking."[13]
Looking Through a Lens of Belief
On reflection, this article has been written to be shared with people of faith and goodwill, and it is important to take a few moments to see the situation through the lens of our faith and the beliefs that we hold.
This conflict has brought terrible evil and pain into the lives of millions of men, women, and children, who just a few months ago were living their lives in family units, working and attending school, playing in playgrounds, and drinking coffee in cafes with friends. The universal rights of these people have been violated where death and destruction have wrought havoc and heartache.
As these horrific scenes have unfolded, we have seen the ugly head of evil in the conflict and in the actions of criminals, but we have also seen an outpouring of genuine love and compassion to those in need. Let us take a moment to think about and pray for our 'neighbours,' to ask for comfort and protection, for wisdom for leaders and decision makers, and for the conflict to cease; to stand with these dear people and believe together for the future of hope, safety, and healing.
—
Alison Ussery is currently working as Network Lead for Link International in partnership with Haven of Light.  Both of these non-profits are based in North Wales, UK and are involved in local community action for the Ukrainian Response with a particular focus on assisting the Ukrainian families who are now in the community to integrate into local life, meet together, and thrive while they are in Wales.
Ali began her career in international aid and development work in 1990 in Northeast Romania, and later in reconciliation and education initiatives with young leaders in the former Yugoslavia and the Balkan region.  She has been involved in the anti-human trafficking and modern slavery field since 2013, at a local level in North Wales through Haven of Light which focuses on awareness, advocacy, prevention and support.  She sits on the Board of the European Freedom Network and other collaborative groups working on issues of modern slavery, human rights and social justice, and greatly values working at the grassroots level in communities alongside local people.  
—
Footnotes:
[1] United Nations Human Rights Office of the High Commissioner, Ukraine: Armed conflict and displacement heightens risks of all forms of sexual violence including trafficking in persons, 16 March 2022, https://www.ohchr.org/en/press-releases/2022/03/ukraine- armed-conflict-and-displacement-heightens-risks-all-forms-sexual
[2] International Rescue Committee 21.4.22 What Ukraine's Children need amid the trauma of war.  https://www.rescue.org/article/what-ukraines-children-need-amid-trauma-war
[3] Hoff & de Volder. Preventing human trafficking of refugees from Ukraine. May 2022, https://freedomfund.org/wp-content/uploads/UkraineAntiTraffickingReport_2022_05_10.pdf
[4] https://www.independent.co.uk/news/ap-romania-unhcr-united-nations-russia-b2078685.html
[5] OSCE 22.4.22 Recommendations on enhancing efforts to identify and mitigate risks of trafficking in human beings online as a result of the humanitarian crisis in Ukraine
https://www.osce.org/files/f/documents/4/c/516423_0.pdf
[6] UNODC March 2022 Conflict in Ukraine : Key Evidence on Risks of Trafficking in Persons and Smuggling of Migrants  https://www.unodc.org/documents/data-and-analysis/tip/Conflict_Ukraine_TIP_2022.pdf
[7]  UKRAINE EMERGENCY RESPONSE – TRAUMA INFORMED CARE
Refugees will all have experienced trauma. Here's how to provide good trauma-informed care to those you are helping (May 2022)https://www.europeanfreedomnetwork.org/ukraine-trauma/
[8] Matthew Saltmarsh, March 18th 2022 https://www.unhcr.org/en-us/news/briefing/2022/3/623453f14/unhcr-warns-rising-needs-ukraine-neighbouring-countries-calls-cessation.html
[9] https://www.link-international.org/impact
[10] https://sanctuaryfoundation.org.uk/
[11] Hoff & de Volder. Preventing human trafficking of refugees from Ukraine. May 2022, https://freedomfund.org/wp-content/uploads/UkraineAntiTraffickingReport_2022_05_10.pdf
[12]GRETA May 4th, 2022.  https://rm.coe.int/guidance-note-on-addressing-the-risks-of-trafficking-in-human-beings-r/1680a663e2
[13]UNODC March 2022 Conflict in Ukraine : Key Evidence on Risks of Trafficking in Persons and Smuggling of Migrants  https://www.unodc.org/documents/data-and-analysis/tip/Conflict_Ukraine_TIP_2022.pdf