By JoAnne Wadsworth, Communications Consultant, G20 Interfaith Forum
– – –
On July 6, 2022, the G20 Interfaith Forum, with the cooperation of partnering organizations, held the 2022 International Ministerial Fringe Conferences On Preventing Violence Promoting Freedom of Belief. The conferences were held in the Hyde Park Chapel of The Church of Jesus Christ of Latter-day Saints in London, England. This session, titled "Why Gender and Youth Matter in FoRB and Conflict" acted as the opening plenary for other sessions to follow.
Speakers included Helene Fisher, Global Gender Persecution Specialist at Open Doors; Heela Yoon, Founder and CEO of the Afghan Women Welfare and Development Association; Audrey Kitagawa, President  and Founder of the International Academy for Multicultural Cooperation; Kimberlie Orr, University of Notre Dame Law School; and Dishani Jayaweera, Co-Founder of the Centre for Peace-Building and Reconciliation. Dr. Sam Rushworth, Chair/Co-Director of the Global Challenge Research Fund, moderated the discussion, and Traci de Marco, Europe North Area Organisation Advisor for The Church of Jesus Christ of Latter-day Saints, provided an official welcome to the venue.
Welcomes and Introduction
After a brief welcome by Dr. Sam Rushworth, Traci de Marco offered some opening comments on the session, welcoming all attendees and participants to the venue on behalf of The Church of Jesus Christ of Latter-day Saints.
"Women and the young are particularly suffering from the ravages of war and religious persecution. Our privilege today to offer this house of worship for this community event of great global significance.

"And yet there is  a dissonance. Atrocities are being done in the name of God and believers are slaughtering other believers who believe differently or those who choose a secular path. Clearly there is something wrong.  We need to do better—but we can and must have hope.

"We find solutions as we focus  on universal values that unite us all. These are ageless values—even eternal values, from the God who gives us life. Loving others as ourselves is our great call to action today. As we follow this principle and advocate for peace, justice, and kindness for all,  change can and will happen."
Rushworth then introduced the panelists and invited them to share their thoughts and comments on the following questions:
Why does Gender matter?
And how are women and youth leading interfaith peacebuilding efforts?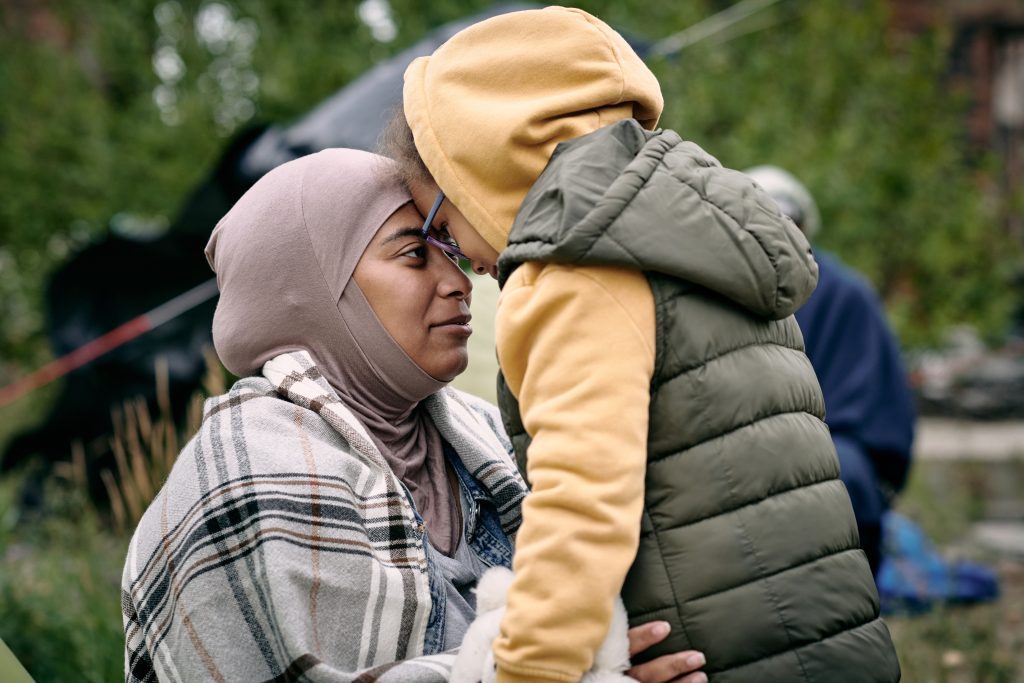 Helene Fisher
Fisher focused her comments on her 15+ years working in the fields of religious persecution, women, and gender. She said that they started by hearing terrible stories about what was happening to women and girls and assuming that they were anecdotal or exceptions to the rule, but quickly discovered that these stories were standard across the globe.
Then they began to understand the combined vulnerabilities of young girls—age vulnerability and gender vulnerability—and started to look at where human rights violations overlap globally: FoRB violations, gender vulnerability, age vulnerability, etc.
"These overlapping human rights violations squeeze in on young women particularly and become a form of religious oppression, compounding systematically across almost all cultures and backgrounds because it's so ingrained in society.

"We understand what  the problem is—but I'm excited to hear what the solutions are as we empower these women and girls, particularly in conflict situations."
Heela Yoon
Yoon said that she didn't have a formal speech, but rather preferred to share her experience growing up in Afghanistan—a country where the citizens have been living in war for four or five decades, and one of the few places where women and girls are not allowed access to basic education.
She said that since young people are often the perpetrators of violence and not the  changemakers, she founded her organization to support grassroot peace builders, focusing on starting from the bottom up with peacebuilding and development.
"Women are not only the victims of war. We are also the changemakers. Of course gender matters—because women experience war differently and women have different solutions for sustainable peace. Their involvement should not be  merely symbolic but truly meaningful—involved from the very start to the very end, at every table.

"We don't need others to rescue us. We are own changemakers and we can solve our own problems. We just need the right platform."
Audrey Kitagawa
Kitagawa referenced her legal background, focusing on the international legal instruments in place surrounding gender and peace. She said that prior to the rise of the United Nations,  these international legal instruments were nonexistent. Now, however, local engagement can give leaders insight into whether or not international legal instruments are effective or if they can truly be enforced.
She said UN Security Council Resolution 1325 was particularly seminal, as it specifically addressed the importance of women's full and equal participation in peacebuilding, conflict resolution, humanitarian action, and more. The resolution also created measures to protect women and girls from conflict-related sexual violence, which has long been utilized as a tool to instill fear in civilians during war.
"The resolution provided a global framework to mainstream gender in all peace processes. It lifted up the prominence and importance of women in all aspects of peace. Hopefully, its framework will also filter into the  member states who have signed it, who should begin enforcement processes so that people on the ground can benefit.

"Even through the 2030 SDG agenda is important and recognizes the importance of gender equality in SDGs 5 and 16, neither goal expressly references women,  peace, and security. We must always remember the contexts and intersectionalities of rule of law. We must continue to dilate the lens of insularity and expand into the global mind and heart."
Kimberlie Orr
Orr spoke from the perspective of her ackground in immigration  law, where she had the opportunity to interview hundreds of women and children who had been persecuted on account of age and gender. Now, at Notre Dame, she is focusing on the gaps in international refugee protection, which particularly impact women, children, and religious minorities in conflict zones.
She said the 1951 resolution on refugees was created in response to WWII, and therefore has significant gaps that aren't recognized in international law, including civil war, domestic violence, and climate migration.
"Climate change and conflict exacerbate existing inequalities. Women and children are more susceptible to these climate and conflict-caused struggles, and less able to cope with the results of these problems. They're also 14 times more likely to be killed by disasters than men. And all of that is before they're displaced—whether internally or across boundaries. Inequalities are exacerbated and harms continue to occur along the path to finding new homes, and even once they're in new homes.

"There are significant gaps in the international law that we have. It's going to take creativity and new thinking in peacebuilding processes, including fully involving those most impacted, to truly make a change."
Dishani Jayaweera
Jayaweera focused her comments on her experiences as a woman peacebuilder, cofounding and working with the Centre for Peace-Building and Reconciliation.
She said her organization was founded by a man and a woman, bringing masculine and feminine energies together in a balance in the organization and within the members. In their work with religious leaders of four faiths, she would often be the only woman sitting at the table with thirty men—however, she saw it as an opportunity to bring feminine energy, ideas, and perspective, showing these religious leaders the imbalance in their current worldviews and solutions.
When they started inviting female religious leaders for dialogues and trainings, Jayaweera said that most of the time they shared their true thoughts and feelings only with her over tea and not in the circle.
"It's hard to break the rules within religious organizations. So we started working harder with female religious leaders. And that has been one of the best experiences I've ever had in my life.  This initiative has grown to working with women and girls, teachers, and more—people who are connected with the world in every aspect, and who see this all as community issues.

If women designed a city, what would it look like? It would be very different. Now think about a globe. We say we're at the peak of civilization, but  when  we look at our current topic—why gender and youth matter—is that a question to ask in an advanced civilization? No. It shouldn't need to be asked at all."
Conclusion
In conclusion, each speaker offered a final statement. Repeated themes included the fact that Freedom of Religion and Women's Rights were actually mutually reinforcing rather than in conflict with each other. It was also mentioned that sexual violence and forced marriage needed to be stopped as tools for religious persecution and discrimination.
Attendees and participants then split into breakout rooms to dive deeper into these topics.
– – –
JoAnne Wadsworth is a Communications Consultant for the G20 Interfaith Association and acting editor of the "Viewpoints" blog.