By Husna Ahmad, Clair Brown and Sherrie Steiner, G20 Interfaith Forum Working Group on the Environment
This post is the second in a two-part series on the water crises the world is facing and the role of the G20 and interfaith groups in helping. Read Part 1 here.
– – –
Faith Teachings Regarding Water
All faith traditions have a strong connection with water. Water is regarded as sacred, blessed and life giving. Islam, Judaism and Buddhism all share the concept of water as being the source of life. Traditionally, Muslims have a very close and spiritual relationship with water. They use it not only for their daily domestic tasks like cooking and drinking, but also to perform religious ceremonies as well. The theme of water in the Quran is explored both symbolically and at a practical level. Water is an integral part of Islam and has been embedded in Islamic beliefs and customs from the beginning. The term Shariah [Islamic laws] could either mean "the watering source" or "the path that leads to a source of water". Thus, it is a metaphor for divine law quenching the thirst of knowledge or a path leading to the source of truth. Muslims acknowledge water as one of the immense mercies Allah (swt) has bestowed upon humans.
In Judaism, the symbol of water as a life-giving gift from God means that to appreciate having water is to appreciate God. Water is mentioned throughout the Torah. In Judaism, the well of Miriam is significant as the source of water that streams into the twelve tribes of Israel. Miriam's death resulted in the dearth of water. They credited to her the existence of the well that accompanied the Israelites on their wanderings in the wilderness and provided them with drinking water. The well, according to the Rabbis, was one of the things created on the eve of the Sabbath at twilight (M Avot 5:6). They depict it as a wondrous well that flowed from itself, like a rock full of holes (T Sukkah 3:11).
Buddhism teaches that the health of the whole is inseparable from the health of the parts, so one needs to care for oneself as a part of caring for the environment. Buddhist wisdom teaches us that there is no separation between self and other. We are all "of one taste" in these waters, and inseparable; indistinguishable as separate entities. In Buddhism, too, the significance of water extends to the wider environment as a life-giving element and a spiritual force.
In Christianity, water symbolizes the purification of the soul. Water plays a significant role in the blessing of people, places or objects, and for repelling evil. In the Old Testament, water is presented as a gift: rainfall is a sign of God's favour and goodness, whilst droughts signify God's wrath.
The Holy Scriptures of Hinduism teaches that humans should live in harmony with Mother Nature and that water is sacred.[1] Hindus believe that humans need to control their desires and to reduce the demands we place on the earth's resources. They are committed to simplicity and the sanctity of life. In Vedic texts, water is referred to as Apah, or literally the Waters. The Waters are considered to be purifying in a spiritual context. 'Hail to you, divine, unfathomable, all purifying Waters…'(Rig Veda)[2].
Water is important in Sikhism both at birth and death. It is an integral part of their initiation ceremony  (Amrit) which is sprinkled on the initiated person and they drink it; and with death their ashes are immersed in flowing water. Also the most important gurdwaras are surrounded by water – Golden Temple – Harmandir Sahib and Delhi Gurudwara Bangla Sahib. Water also holds a special importance in Hinduism, symbolising cleanliness and purity, which are central to Hindu ritualism. Believed to be sacred, rivers are highly regarded in the Hindu faith. The River Ganga is considered to be the holiest of the sacred rivers.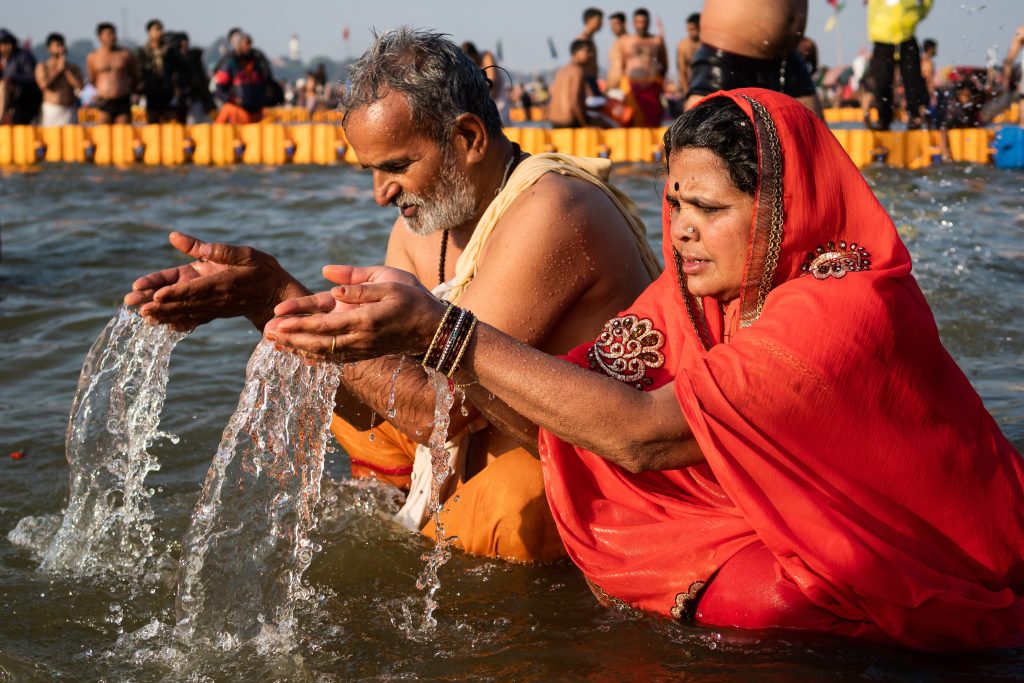 A Role for Interfaith Dialogue
Given the urgency of the situation, much more needs to be done.
Faith communities can provide strong and steady voices in the midst of the despair that is encompassing 2.2 billion people who live in countries facing water stress. We are a moral compass for the world. We are custodians and stewards of this blessed planet. We need to stand in solidarity together through interfaith dialogue and action lest we become so consumed with our daily lives that we take water for granted and forget that water is one of the most blessed elements on the planet.
Interfaith dialogue gives an opportunity for faith traditions to showcase the importance of water conservation and introduce tangible steps for conservation at the individual, community and national levels. Interfaith dialogue also serves as a resource for promoting climate justice and water justice in the face of water scarcity. Access to water rights and dispute resolution are also areas where dialogue can be extremely valuable. From all faiths, we can extract important lessons about the value of water, which can aid water conservation efforts.
Interfaith dialogue about water can shape values and encourage governments to prioritize implementation of water policy recommendations. Here we conclude by highlighting themes for interfaith dialogue in the various faith-based networks in support of water becoming more prominent and valued in decision making processes of the G20 nations.
Faith groups represent the biggest organized element of civil society in the world and they are heavily involved in education worldwide, and faith plays an important role in shaping value systems. One practical way that interfaith networks such as IF20 can make a positive contribution to elevating the value and priority that governments give to water issues is to incorporate dialogue about water issues into existing programming.
In conclusion we would like to recommend interfaith dialogue in water conversations as they play a vital role in soft diplomacy.  Faith actors and leaders are among the most trusted members of the global community where an estimated 84% of people claim to be adherents of a religion or faith. Faith leaders can create safe spaces for dialogue about water which, in today's world of crisis after crisis, is so important.
The key areas we recommend for the focus on interfaith dialogue are:
Water Preciousness and Conservation;
Water Purity, Pollution and Waste Management;
Responsible Behavior and Basic Consumption;
Stewardship and Efficiency;
Good Neighborliness and Public Stewardship;
Peacemaking and Water Sharing;
Women's Dignity and Water for Menstrual Health.
– – –
Dr Husna Ahmad OBE is the CEO of Global One 2015, which is a faith based International NGO focused on women. She is currently a Board member of Faith for the Climate and Palmers Green Mosque (theMCEC). She is also a member of the Women's Faith Forum UK; and Executive committee member of Barnet Faith Forum She is a member of the Multi faith Advisory Council [MFAC] to the UN Inter-agency Task Force on Religion and Development.
Clair Brown, PhD, is Professor of Economics and Director of the Center for Work, Technology and Society at the University of California, Berkeley. Brown has published research on many aspects of how economies function, including understanding inequality, mitigating the climate emergency and improving sustainability, and evaluating the quality of life and the standard of living. She works with environmental justice and faith-based groups on climate policies that reduce carbon emissions in a way that improves the
lives of vulnerable populations and meets the Paris goal of under 1.5 0 C temperature rise.
Sherrie M. Steiner, PhD, is assistant professor of sociology at Purdue University Fort Wayne and the official historian of the G20 Interfaith Forum. Dr. Steiner's research focus is on religious soft power, environmental sociology and improvement of public health. This research is conducted transnationally in relation to the G20 Interfaith Forum and at the community level through collaborative relationships with public not-for-profit organizations. Dr. Steiner teaches courses on religion, development, social movements, and the environment.
– – –
[1] Water is Sacred – Sadhvi Bhagawati Saraswati (sadhviji.org)
[2] Cardinal-Paul-Poupard-2011-Hindu-perspective-on-water