By Alasdair Lane, International Dialogue Centre (KAICIID)
– – –
This blog contains elements of articles published on the KAICIID website. Read the original articles here, here and here.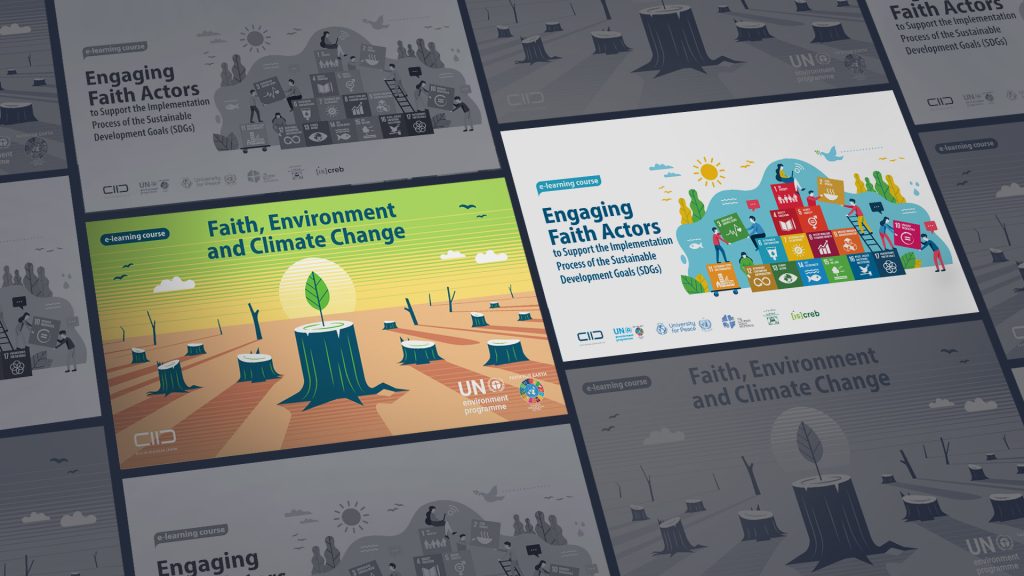 Knowledge and learning are vital components of positive action — without them, efforts to make the world a more harmonious and equitable place, however well meaning, are destined to fall short.
When it comes to the UN 2030 Agenda, Sustainable Development Goals, and environmental protection more widely, knowledge plays a particularly important role. Why? Because sustainable development involves a complex confluence of social, ecological and economic factors. That is why, in recognition of the accelerating climate emergency and deepening global inequality, the International Dialogue Centre (KAICIID) produced a series of e-learning courses on how interfaith dialogue can support climate and sustainability-focused initiatives.
Created in collaboration with a number of international partners, including the United Nations Environment Programme (UNEP) and the University of Peace (UPEACE), KAICIID's online courses are geared towards policy makers, academics, and professionals working with public authorities, civil society organisations and faith-based organisations (FBOs) around the world.
Religious leaders, FBOs and local faith actors play a vital role in advancing the 2030 Agenda and its goals, particularly those focusing on peace, reconciliation, social justice and environmental protection.
Greater engagement of religious voices by national and international stakeholders is necessary, however, to ensure that sustainable development strategies are implemented in a way that is inclusive and participatory.
Spanning seven modules, KAICIID's 'Engaging Faith Actors to Support the Implementation Process of the Sustainable Development Goals' e-learning course covers a range of topics relevant to sustainable development, including hate speech, interreligious dialogue, and how faith actors' contribution to the SDGs can be assessed.
As participants advance through the syllabus, they learn how to raise awareness on the importance of engaging faith actors in sustainable development schemes, as well as how to identify and map out initiatives that help achieve this.
Students are shown different methodologies, models, tools, and other approaches to improve the engagement of religious figures, while also learning about how to contribute to the design, planning, and implementation of SDG programmes in their home countries and communities.
Real-World Application of the Course
Martina de Porres Lebofa, a sustainable development activist in Lesotho, completed KAICIID's SDG-focused e-learning course to enhance her engagement with religious leaders. In addition to learning about the important parallels between scriptural teachings and modern ideas of conservation and social justice, Lebofa developed skills on how to help religious groups reach green targets and become more sustainable.
"I have always believed that faith based organisations are best placed to tackle the environmental and social challenges our communities face … Faith organisations in Lesotho are not aware of their contribution to the SDGs and so they are not able to act on the opportunities they have … which is why it's so important to work closely with them to strengthen their capacity on sustainability issues so that they realise their potential and added value," Lebofa said.
In order to achieve this, she organised a series of dialogue sessions designed to educate local religious leaders on their role in contributing to the 2030 Agenda. This is important, Lebofa explained, because faith groups have a unique ability to influence the behaviour of their followers, and it is only by helping them leverage that influence that real progress can be made.
Though religious groups have a rich history of activism in the fields of education, healthcare and humanitarian aid, they are generally less experienced in matters of sustainability and climate change. An abundance of environmental knowledge and inspiration can be gleaned from religious texts and spiritual teachings, however, providing huge opportunities for FBOs to align with climate change mitigation efforts.
To turn these opportunities into reality, it is clear that deeper collaboration between FBOs and key stakeholders — such as government agencies, policy makers, multilateral institutions and non-governmental organisations (NGOs) — is necessary. To achieve this, FBOs and religious leaders require guidance on how best to encourage and evaluate sustainable progress in their communities.
The 'Faith, Environment and Climate Change' e-learning course was co-designed with UNEP to help foster connections across faith, science, and secular divides by promoting new climate change-focused partnerships between stakeholders.
Participants of the eight-week, instructor-led programme gain an understanding of the complex and interconnected environmental issues confronting the world, as well as receive training on the science, resources, and best practices needed to address the most pressing climate challenges.

Continued Learning
KAICIID's free-to-access E-Learning Programme is designed to address the lack of accredited virtual learning opportunities dealing directly with interreligious dialogue. KAICIID's suite of e-learning courses are all mobile-friendly, free of charge and available in Arabic, English and French. Participants can register for short self-paced programmes, or longer, expert-led lessons which run for a number of weeks. They are all linked with global initiatives and development goals for sustainable peace.
Upon successful completion of the Centre's E-Learning Programme, students receive a certificate confirming their new skills. Participants are also able to continue their learning via Webinars and Connect2Dialogue — an online networking platform that fosters best practices and knowledge exchange by connecting interfaith practitioners, experts and other stakeholders around the world.
Climate change and sustainable development are complicated and constantly evolving phenomena, so it is only by constantly honing skills — and developing new ones — that faith leaders, dialogue practitioners, activists and other stakeholders can continue making progress.