By Brian J. Grim, Ph.D. – President, Religious Freedom & Business Foundation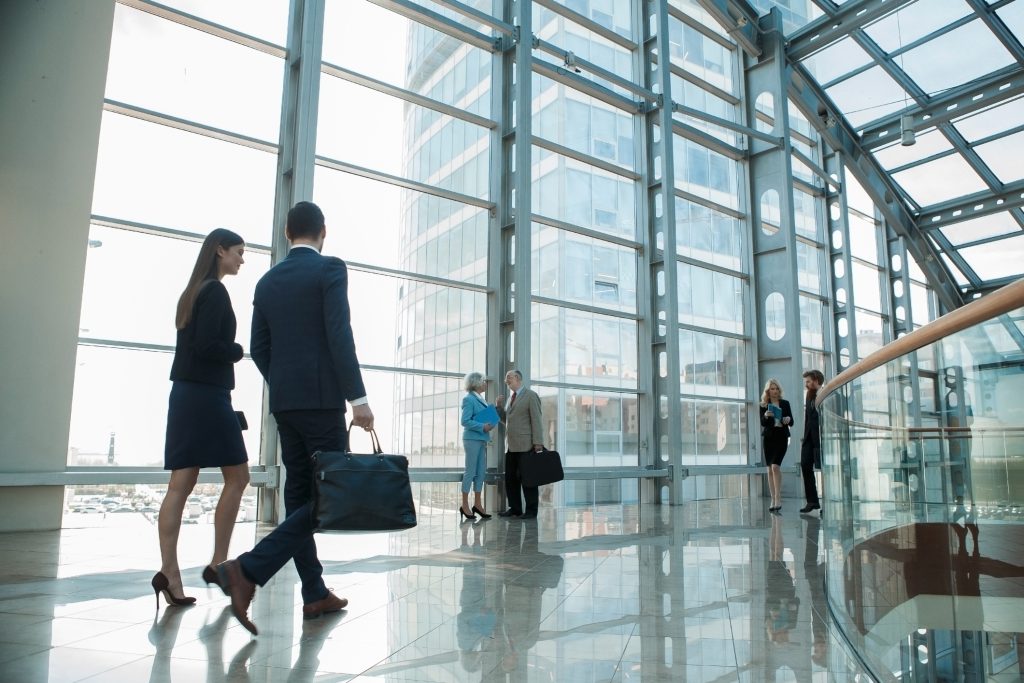 Something amazing is happening in the world's most successful corporations. They're becoming more faith-friendly. It's been decades in the making for some, like Texas Instruments. For others, like Salesforce, it's new and rapidly growing.
The Religious Freedom & Business Foundation's Corporate Religious Equity, Diversity & Inclusion (REDI) Index finds this trend is propelled by company-sponsored, faith-oriented employee resource groups and other programs. Google, Intel, American Express and others score highly on the REDI Index for supporting such initiatives. American Airlines does too. Their Chief Flight Controller is a priest and company chaplain. In fact, Tyson Foods has chaplains on staff serving the needs of all employees, regardless of faith or belief.
Why do these companies do it? It's good for employees. It gives them a competitive advantage. And that's good for business and society.
A Changing Global Marketplace
This changing trend in business is related to global religious dynamics and how religion is impacting interactions among people of different beliefs and values in both the workplace and the marketplace. This is important because our planet will have 2.3 billion more religiously affiliated people by 2050 than we do today, compared with just 0.1 billion more religiously unaffiliated people. That's a 23-to-1 ratio in favor of religious growth.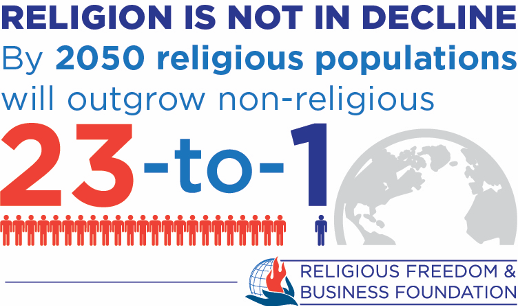 This religious growth is changing the global marketplace. Today, three of the top five economies are majority Christian. But in 40 years, only one is projected to be. The other four top economies in 2050 will include countries where Hindus, Muslims, Buddhists and unaffiliated people predominate.
Research shows that this religious growth can be good for both the workplace and the bottom lines of businesses—as long as restrictions on freedom of religion or belief (FoRB) are kept low. In countries where religious freedom is a priority, innovative strength is more than twice as high as in countries where governments and societies don't respect freedom of religion or belief. So, freedom to believe—or not believe—is good for business.
Religious Freedom and Global Competitiveness
However, the data on respect for freedom of religion or belief in the U.S. and worldwide is very concerning. Annual studies that I initiated while at the Pew Research Center (2009-2019) find that governmental and social restrictions on religion and belief are high or very high in 40% of countries. But because some of these countries are very populous, some 5.9 billion people (nearly 80% of the world's population) live in countries with a high or very high level of restrictions on religion. Since 2009, the number of people living in countries with high religious restrictions and hostilities has increased from 4.8 to 5.9 billion people – that's an increase of 1.1 billion people living in countries where freedom of religion or belief is under duress.
High restrictions on freedom of religion or belief damage or even destroy the pillars of global competitiveness. The same study that measured a country's innovative strength against its attitudes toward freedom of religion or belief shows that almost all of the World Economic Forum's pillars of global competitiveness are stronger in countries respecting religious freedom and weaker in countries restricting such freedom.
The Connection Between FoRB and Migrating Millionaires
One indicator of innovative strength is whether a country's top entrepreneurs and successful business people stay in a country or leave it. Taking the migration of millionaires as an indicator of this, recent research shows that Australia is gaining the most and China is losing the most millionaires. The chart below shows how this compares with the level of government restrictions on religion and belief in a country.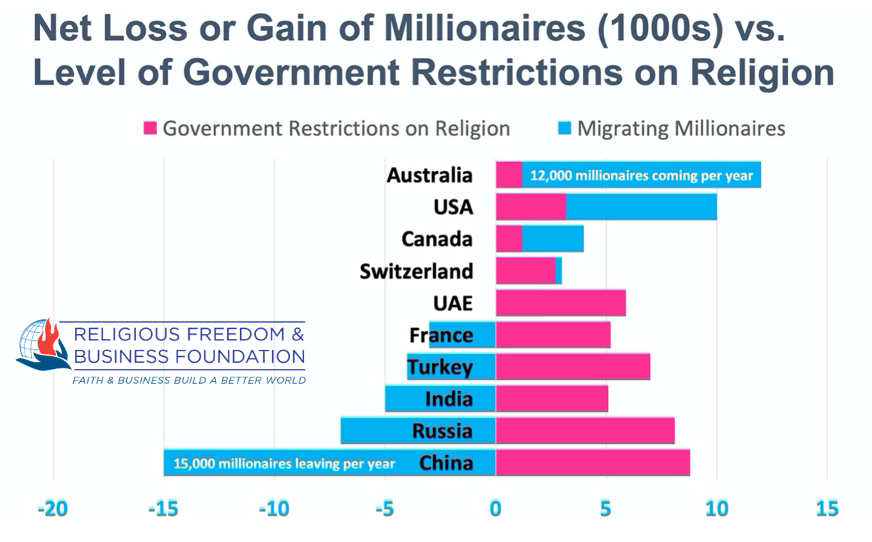 The data show that China—the country with the highest government restrictions on religion, as measured by the Pew Research Center—is also losing the highest number of millionaires seeking freer, more secure opportunities elsewhere. And Australia, a country with low government restrictions on religion, is benefiting the most from this migration of talent and resources.
Religious Discrimination and Employment Law in the U.S.
While the U.S. has relatively moderate government restrictions, it has high social hostilities, according to the past three annual reports by the Pew Research Center, which has been tracking these trends since 2009. One place we see this is in the number of American workers who have experienced or witnessed religious discrimination in their workplace. A 2013 Tanenbaum survey finds that 36% of American workers, or about 50 million people, have experienced or witnessed some form of religious discrimination or non-accommodation in their workplace. Despite this, religious diversity and inclusion is not on the minds of many companies.
In the United States, under the laws enforced by the Equal Employment Opportunity Commission, it is illegal for employers that are not religious in nature with at least 15 employees to discriminate against someone (applicant or employee) on the basis of race, color, religion, sex (including gender identity, sexual orientation, and pregnancy), national origin, age (40 or older), disability, or genetic information; and an employer is required to reasonably accommodate an employee's religious beliefs or practices, unless doing so would cause difficulty or expense for the employer.
This law means that all employers in the U.S., with the exception of those that are small or religious by constitution, may have to make reasonable adjustments at work that will allow the employee to practice his or her religion, such as allowing an employee to voluntarily swap shifts with a co-worker so that he or she can attend religious services.
The Corporate Trailblazers of Religious Inclusion
The 2020 Corporate Religious Equity Diversity and Inclusion (REDI) Index finds companies that include faith-oriented components as part of their employee programing create a more accepting environment overall. The study shows that major companies like those on the Index's top ten (including Google, American Airlines, Intel, American Express, and Tyson Foods) are taking a wide variety of approaches to this issue. All are proving the concept that fostering faith-oriented groups and interfaith activities leads to stronger work environments.
At Tyson Foods, 98 chaplains provide on-call spiritual assistance for people of all religions or no religion. Google's Inter Belief Network of Employee Resource Groups (ERGs) helps the company understand the sensitivities of religious groups when creating new products.
The world's largest retailer, Walmart, launched its first faith-oriented ERG in 2019, playing a bit of catch-up with Target, which got started more than eight years ago. The taboo about faith at work is even fading in the financial industry, with places like American Express having active groups called SALT (Christian), CHAI (Jewish) and PEACE (Muslim).
As mentioned above, Texas Instruments, a pioneer in the movement, has thoughtfully engaged on these issues for more than 20 years. They were able to productively include religion as an overall part of their diversity and inclusion initiatives (race, gender, sexual orientation). Other companies, like Salesforce's Faithforce, are only a few years old but growing quickly. Faithforce, which works to cultivate a culture of respect and belonging for all people, today has more than 3000 members in 13 regional offices across five continents and is the fastest growing ERG in company history.
PayPal recently launched its first faith-oriented ERG. Apple's Diversity Network Associations include faith-focused groups. Dell's Interfaith ERG is part of a larger network that regularly engages executives and share ideas for product development.
At American Airlines, when Fr. Greg McBrayer, an Anglican priest, isn't working as a Chief Flight Dispatcher at Dallas Fort Worth Airport, he's serving as Director of the DFW Airport Chaplaincy. In addition, American Airlines offers faith-oriented groups for Muslims, Jews, and Hindus and programs that foster interfaith understanding.
Toward More Faith-friendly and Religiously Literate Workplaces
The examples go far beyond the above, making religion and faith at work perhaps one of the next big trends in corporate management and human resources. This is not just a feel-good initiative, it's good for the bottom line—improving retention, market understanding, employee cooperation and brand warmth.
Just like with any newcomer to the office environment, a more faith-friendly and religiously literate workplace will require a learning curve, understanding, exploration, and time for adjustment. In the end, greater emphasis on faith in the workplace might just mean more religious tolerance, more effective diversity programming, and employees that are more fulfilled in their work … leading to better-looking bottom lines.
Brian J. Grim, Ph.D. is the founding president of the Religious Freedom and Business Foundation, acting as the world's leading expert on the relationship between religious freedom and the economy. He was previously chair of the World Economic Forum's global council on the role of faith, and a senior researcher and director of international religion data at the Pew Research Center.