By Solomon Bennett, Islamic Relief USA Summer Intern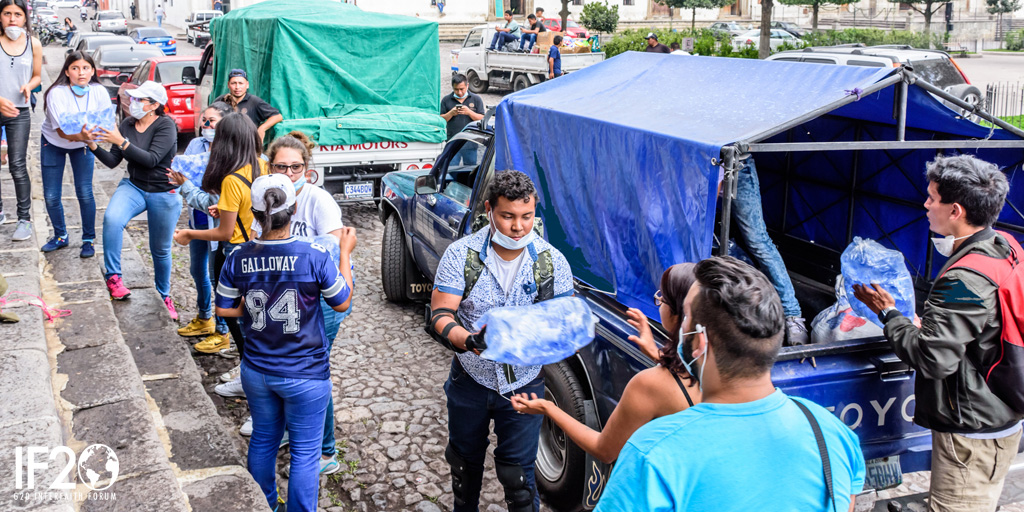 Sharif Aly, CEO of Islamic Relief USA (IRUSA) made clear that COVID-19 illustrates more than ever before just how important it is for different communities to come together, even if virtually.
The G20 Interfaith Forum is an opportunity for faith-based organizations, institutions, and organizers to come together to discuss humanitarian work, global initiatives including the United Nations' Sustainable Development Goals (SDGs), and make recommendations that respond to the G20 Conference and shape international policy.
Many of the working groups in the Interfaith Forum focus on issues integral to IRUSA's mission of giving, including fighting poverty, hunger, and climate change.
"There are many distinct beliefs within the faith [Islam] that inspire giving to those who are less fortunate," Aly said. "It comes from the sincere belief that we are all equal before God, and that those who are suffering, we could be in their position tomorrow, we can't take our position for granted."
Indeed, as faith-based institutions, organizations like IRUSA have a unique kind of cultural competency and connection to vulnerable communities, meaning that they can fill in the gaps where governments and other institutions have been unable to act. Part of the Interfaith Forum focuses on creating ideas, policies, and strategies to fill those gaps at a global level.
When Aly attended the 2018 Interfaith Forum in Buenos Aires, Argentina, his most memorable experience was visiting three renowned houses of worship including a church, a synagogue, and a mosque: "We got to see the cultural component of faith being practiced in Argentina, a beautiful example of faiths living together with love and appreciation for one another."
After previous summits, two of the major takeaways have been the importance of financial "de-risking" and finding ways to end limited access to resources and services in order to provide more for the most vulnerable, and the spread of disinformation which can impact the credibility of faith institutions and their capacity to serve their constituencies.
But the COVID-19 pandemic has presented a new set of serious challenges, which Aly expects to take the forefront of this year's Interfaith Summit in Riyadh, Saudi Arabia. The global and domestic public health responses have left much to be desired, and the virus has exacerbated existing racial, health and economic disparities in the United States and elsewhere. It has also strained the efforts of faith-based organizations, including IRUSA and their local partners on the ground.
Aly noted that the virtual format of the Interfaith Forum meetings may have a small environmental benefit or allow otherwise earmarked travel expenditures to go elsewhere, but that it comes at a great cost:
"We can do so much virtually, it's been astonishing, but we miss out on the social aspect, the part that is missing is how to build empathy and understanding on a personal level, which you are able to do when you break bread with one another."
Due to the insufficient COVID-19 response globally, Aly highlighted the important example that the G20 Interfaith Summit sets to bring different communities together in solidarity to address the most pressing issues of the time.
"Power is found in people, if you want to make change, you need to bring people together to fight inequality and increase prosperity beyond a small number of people," Aly said. IRUSA is currently looking toward investing more domestically in helping small organizations get off the ground, especially in black communities and other communities of color to fight poverty, food insecurity, and health crises. Serving the most vulnerable gets to the core of IRUSA's mission and gratitude to God, Aly explained:
"Ithar means, like the golden rule in the Christian faith, that you prefer for your brother or sister better than what you prefer for yourself."
Sharif Aly is the CEO of Islamic Relief USA, and advocate for humanitarian work and policy, and an avid sports fan. Before being named CEO, Sharif worked as an attorney and advocate for Islamic Relief USA (IRUSA). Sharif has always committed to applying his knowledge of the law to help empower the disenfranchised. Prior to joining IRUSA, he practiced law in New York, where he developed transferable skills and knowledge, including nonprofit management, executive leadership and negotiations.