by Dr. Juliette Biao Koudenoukpo (Eng, MSc, PhD), Director and Regional Representative of the United Nations Environment Programme Africa Office. Adapted from Dr. Biao's speech at the October 2020 G20 Interfaith Forum in Riyadh, Saudi Arabia.
– – –
It is a great honor to speak before you today, and to speak on a topic I consider fundamental to the real and transformational climate action that the world urgently needs. That topic is values-based climate action.
COVID-19 and Climate Action Urgency
Climate science continues to be unequivocal; there is an increased sense of urgency for bold ambitions regarding climate action.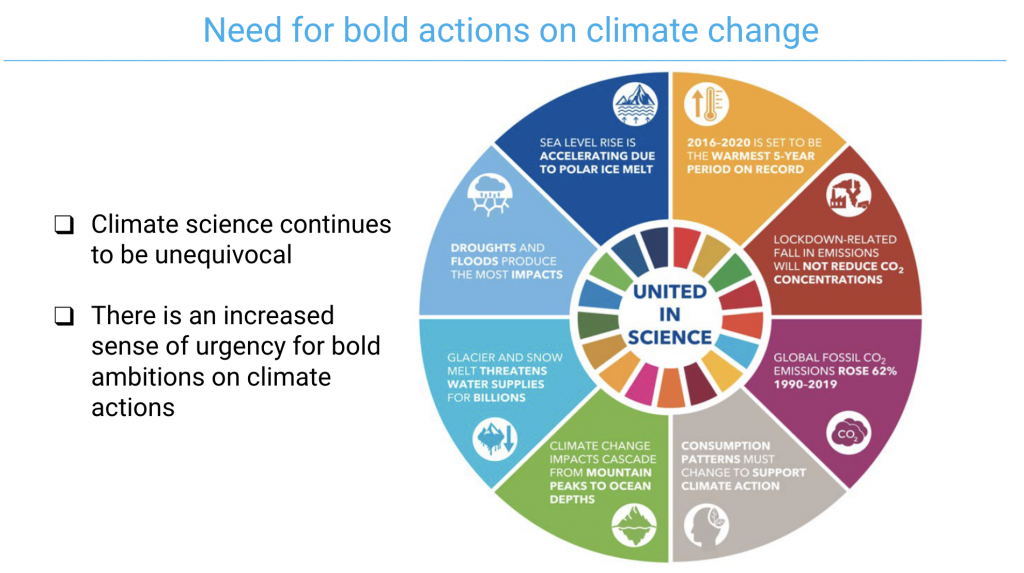 In early September of 2020, the UN Environment Programme, collaborating with leading global research and scientific agencies, released their latest analysis – the "United in Science Report."
In a nutshell, this report was a study of the impact of the COVID-19 global emergency on climate change. And the results were alarming. According to this report, climate change has not stopped for COVID-19, and the effect of any emissions reduction resulting from the COVID containment measures has only been temporary.
This verdict brings us back to the drawing board to answer a weighty and fundamental question about our response to climate change:
With the urgent need to increase climate action by up to 5x on one hand, and the crippling economic effects of the COVID-19 emergency on the other hand (where Africa is facing a negative 5.1% GDP growth for 2020, a loss of up to 50% of all jobs, and the first recession in 25 years, among other risks), what reserve can we draw upon as a people to go the extra mile and ensure we raise climate action ambition?
Using Faith to Prioritize the Climate Amidst Economic Slowdown
How can we rise above the odds of an economic slowdown and prioritize climate action amidst other equally pressing challenges competing for investments?
The answer lies in being true to our faith by exercising the values we are called to practice.
Our different practices of faith are united by a common thread – selflessness—which inspires us to be mindful of the needs of other people and the planet through sustainable consumption and production. Selflessness, espoused through faith, is pivotal in helping our societies rise above every obstacle, increase climate action ambition, and build impactful resilience.
Our work in Africa is focusing on, among other aspects, helping the continent's biggest constituency – the youth – to embrace selflessness as their core motivation for action. Through an approach we call Innovative Volunteerism, we work with the youth to build their capacities and help them be effective players in accelerating climate action.
Innovative Volunteerism
Through this approach, the youth implement environmental and livelihood projects that feed into the region's commitments to low-emission and climate-resilient pathways. These interventions also feed into the facets of the AU Agenda 2063, the UN Agenda 2030, and post-COVID-19 green recovery initiatives.
For example, through innovative volunteerism, youth who have been trained to fabricate mechanical solar dryers using locally available solutions are developing dryers that are up to 200% cheaper than imported solutions. These youth are working with agro-value chain actors to decentralize these dryers so they can be used to preserve harvests and reduce post-harvest losses.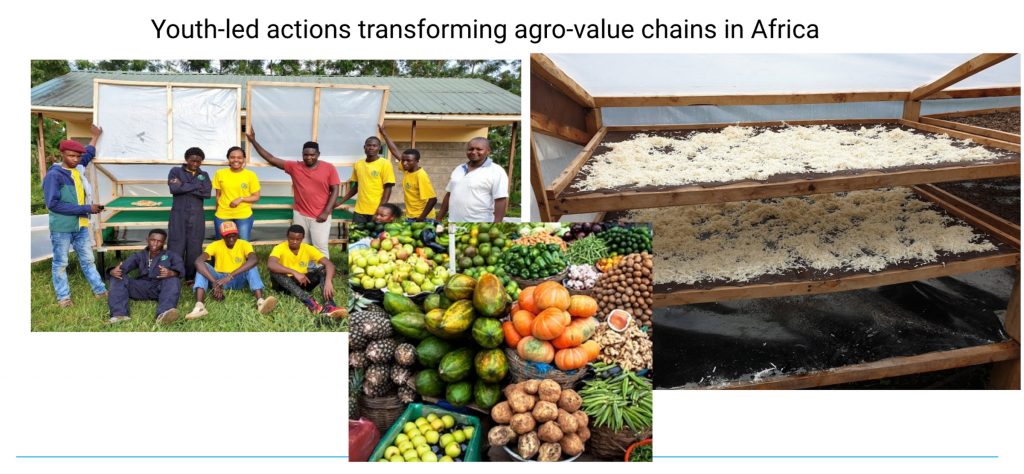 Through this approach, earnings have increased by up to 150% for multiple actors along the agro-supply chain – from farmers all the way to value-adders like marketers and fabricators of solar dryers, among many others. And all of this was done without piling up emissions that compound climate change.
The big lesson we are learning from these youth is one of selflessness. Because of their selflessness, where they use what they have – their skills and talents – to offer solutions for many others in the agro-value chain, they are not only finding fulfillment, but making strides in Africa's climate change response at the same time.
Re-framing Climate Action as a Business Opportunity
Climate action needs to be premised as a business and investment opportunity, not only a social issue. This means priority needs to be put on climate-proofing and maximizing the productivity of certain foundational sectors that can create the most income, enterprise, job, and growth opportunities in diverse other sectors.
For example, the agriculture sector, which is responsible for over 60% of the continent's jobs, stands out as the most inclusive.
However, climate change threatens to lower yields by up to 40%. Resilience-building efforts need to be targeted at this sector – and in a strategic way that unlocks opportunities to add value.
Through forward and backward linkages, agriculture can create income opportunities beyond the farm, covering logistics, energy, marketing, and finance, among other areas. Climate-proofing foundational sectors like agriculture, which can catalyze enterprise opportunities in diverse other sectors, needs to be the priority focus of Africa's adaptation efforts.
Mitigation and Adaptation as Complementary Strategies
We need to increasingly accept that in the most vulnerable regions of the globe like Africa, which are negligible emitters, mitigation and adaptation are complementary – not silo – stand-alone areas.
For example, value addition is among the most critical needs in order to maximize earnings in agriculture, which is one of Africa's central economic sectors.
Clean energy is a critical enabler of that value addition. For instance, decentralizing solar dryers – a mitigation solution that enables informal food traders to dehydrate their unsold stock and preserve it to sell when demand peaks – is proven to not only cut postharvest losses but increase earnings by up to 30 times.
It is that kind of income that ensures our farmers continue to produce, using resilient approaches like the Ecosystems Based Adaptation approaches (EBA) that have been proven to increase yields by up to 128%. It is that kind of income that will build socioeconomic resilience in communities.
But this calls for us to look at mitigation and adaptation-based climate strategies as complementary – with mitigation dedicated to powering adaptation.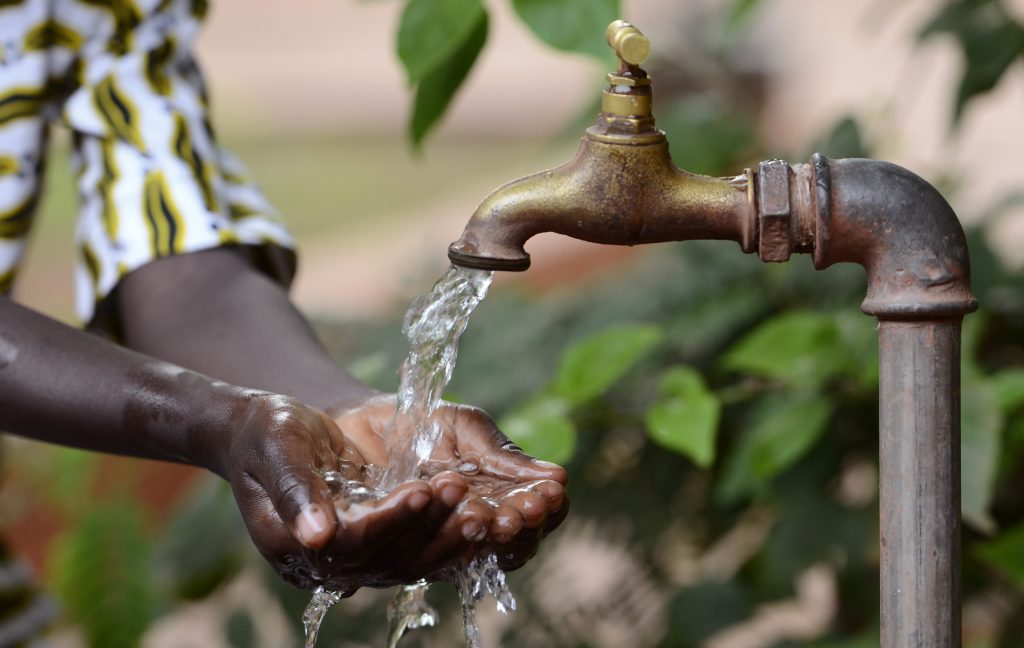 Taking Climate Action to the Investment Level
Climate finance needs to move beyond a social movement to the level of investment and enterprise financing, where returns will transcend the traditional social benefits to include environmental benefits and financial dividends that are critical for longevity.
The next question becomes – where do we start? To start off on this trajectory, every country needs to aim at maximizing on whatever little resources they already have domestically. This means the question we should ask is this: How can we invest the little we have to maximize returns?
How can we ensure that our minimal resources can unlock measurable economic dividends in the form of improved food security and enterprise opportunities, as well as financial opportunities, where enterprises can operate profitably? This should be the focus of climate financing.
Shaping the Leaders of the Future
We need to ask ourselves how our youth can realize gainful enterprise opportunities while leading Africa's climate action efforts. And that answer lies in retooling the skills of our youth.
Our youth, in the diversity of their disciplinary backgrounds, need to be structurally guided to improve, refine, and adapt their skills towards offering climate action solutions that unlock tangible benefits for the community. I gave the example of Innovative Volunteerism that should be emulated by all.
Taking this integrated approach to climate action calls for coherent and collaborative action across diverse sectors.
And these actions will need to be incentivized by coherent sectorial policies. For example, youth employment policies need to be implemented coherently with climate action policies. The express objective is to to ensure that the creativity, energy, skills, and talents of our youth are deliberately harnessed to drive climate action.
In conclusion, the above tenets of values-based climate action will call for all of us to prioritize selflessness over self-preservation, in all decisions we make, at whatever level we are in.
It starts with you and me. Let us win together.
– – –
Juliette Biao Koudenoukpo, UN Environment Programme Director and Regional Representative for Africa, has a wealth of experience in international development and over 30 years' experience managing development initiatives in Latin America, Canada, and Africa with a focus on the environment, community livelihood, and gender equality.  She has previously served as the Minister of Environment and Nature Protection in Benin as well as Acting Minister of Family and Child. Dr. Biao holds a PhD in public policy and administration and a M.Sc. in forestry economics, as well as other numerous academic and professional certificates. She received the Global Women Leadership and Green Future Leadership Award for her leadership and achievements in the field of environmental management and sustainable development. Dr. Biao has also been awarded the highest title of Commander of the National Order of Merit in Benin.