By Katherine Marshall, G20 Interfaith Association Vice President, World Faiths Development Dialogue (WFDD), Berkley Center. 
– – –
The many tentacles of the COVID-19 pandemic dominate current global agendas: economic, social, political, and far beyond. Health care, however, is at the center, with urgent, immediate demands both for COVID-19 prevention and care and a sharply increased focus on demands for reform of systems at global, national, and local levels. And a strong argument can be made that without the full engagement and partnership of faith communities, universal health coverage will never be achieved.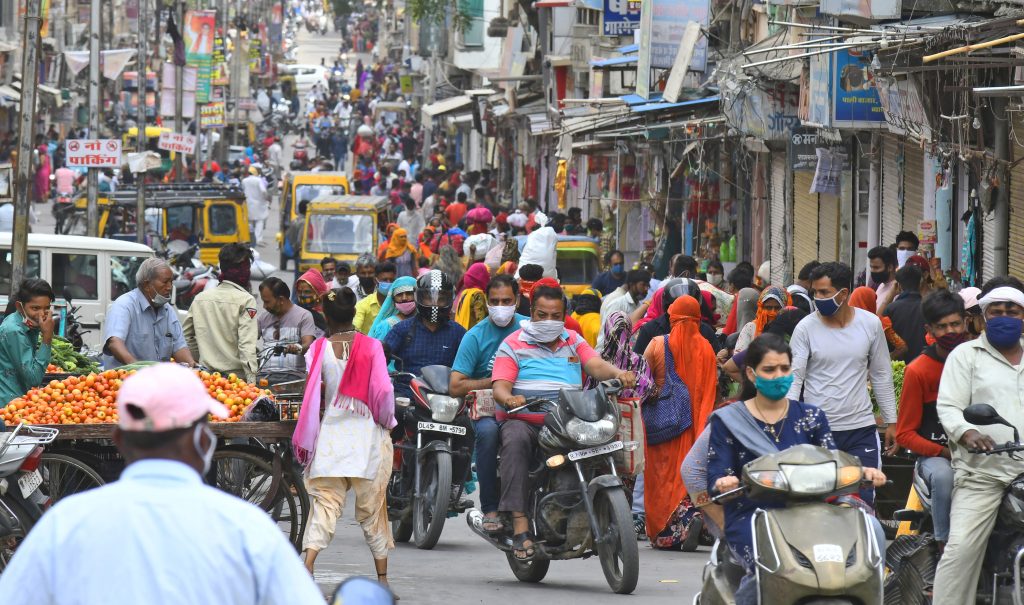 On September 14th, during the G20 Interfaith Forum in Bologna, these topics were discussed with a special sense of immediacy, accentuated by the Forum's overall theme of "healing." The discussion was chaired by Jean-François de Lavison, the founder and president of Ahimsa Fund, with five colleagues:  Katherine Marshall (Senior Fellow at Georgetown University's Berkeley Center for Religion, Peace and World Affairs), David Rosen (by video – International Director of Interreligious Affairs at the American Jewish Committee), Lin Lee (director of the Islamic Research Department of the World Religion Institute, China) Khushwant Singh, who heads the Secretariat at the International Partnership on Religion and Sustainable Development (PaRD); and David Moore (Associate Director, International Center for Law and Religion Studies).
Equitable Vaccination 
Vaccination against COVID-19 and the moral catastrophe of huge inequities were central themes of discussion, with frequent provisos that the immediate urgency of COVID-19 responses should not obscure longer term issues and priorities.
Urgent action to vaccinate populations equitably across the world against COVID-19, a global and absolute G20 priority, can be supported by religious communities through advocacy and direct action. Religious communities can play essential roles in helping to translate global inspiration to the community and local levels of action.
The COVID-19 pandemic also highlights the need to strengthen public and basic health systems and to prepare for future pandemics, both areas where religious communities are intensely involved with for-profit and not-for-profit initiatives.
Care for the Poor
Care for the world's poorest populations is a central concern. Religious communities live close to the most vulnerable people. Though faith communities have rich resources and intricate connections to these communities (in many countries, running and owning significant parts of health systems), they are often excluded from larger, global health partnerships.
A prominent example of distinctive inputs is the spotlight many communities have shone on mental health and psychosocial support during the pandemic.
Beyond COVID-19, new, innovative models are needed that can develop stronger relationships between industries, faith communities, and governments, applying local solutions to global problems, involving the wealthy in the fight against poverty, and working more with mobile care for those in remote areas. Interreligious and intersectoral approaches can help develop more efficient and accessible services.
Relationships Between Government and Religion
The COVID-19 crises highlight the many reasons religious communities need to be actively involved at policy and operational levels in rethinking health care.
Religious dimensions and connections became quite clear early on, with large religious gatherings linked to contagion. As places of worship were closed and pilgrimages halted, debates have raged about how these communities fit in the broader societal picture, with interesting questions posed as to how and why spiritual health and care are essential services. Disruptions of religious festivals and life events, including coming of age rites, funerals, weddings and more have raised deep concerns.
Every historic plague has involved scapegoats and accentuated discrimination and forms of hate speech, and COVID-19 is no exception. Though most religious leaders have sought to diffuse these tensions, others have inflamed them.
Hunger challenges, dealing with increasing conflicts, and building back better in greener, more sustainable ways all belong high on G20 agendas, drawing on religious assets. The pandemic is thus reshaping relationships between governments and religious communities, mostly at national levels.
Collaboration Between Religion and Science
The crisis has highlighted the importance of collaboration between religious and scientific communities, both in terms of education about each other and to reinforce how accurate information is transmitted and received.
Religious institutions need to take these matters seriously, working actively to dispel myths and overcome fears, propaganda, and conspiracy theories. This can be most effective when interfaith groups together repudiate misinformation as it arises and in the context of broad strategies.
Religious leaders need to emphasize that science is a religious imperative, with basic public health training for clergy, for example. They can communicate to secular society that seeing science and religion as incompatible is harmful and misguided. Better collaboration between scientific institutions and religious organizations is both necessary and feasible.
Building Back Better through Religious Engagement 
Building back better requires holistic and inclusive approaches, spearheaded by action on the local level. The terrain for religious engagement is far more promising now than it was in the past, with many organizations (the Bill and Melinda Gates Foundation, for example) seeing religious contributions as valuable.
However, with the enormous fallout from the pandemic, especially for marginalized communities, the challenge is less about restoration than reconstruction, and action in the months ahead is critical. Systems are needed that involve local and international religious actors in national and local health strategies and pandemic preparedness planning.
With the often hidden physical health impact of the pandemic (delayed diagnosis and treatment of TB and HIV, malaria, hunger, and much more), mental health impacts (anxiety, depression, suicide), and economic impacts (disruption of supply chains, debt burdens, increasing inequality), there is much to do.
– – –
Professor Katherine Marshall is a senior fellow at the Berkley Center for Religion, Peace, and World Affairs at Georgetown University. She serves as the vice president of the G20 Interfaith Association and executive director of the World Faiths Development Dialogue, and worked at the World Bank from 1971 to 2006, tackling development issues in the world's poorest countries.