By Prof. W. Cole Durham, Jr. – President of the G20 Interfaith Forum Association and Founding Director, International Center for Law and Religion Studies, Brigham Young University 
Let me begin by thanking our Italian hosts for arranging this distinguished event.  It is a pleasure to join with you today, and we look forward to an exciting year, which we believe will carry the G20 Interfaith Forum—the IF20—to new heights.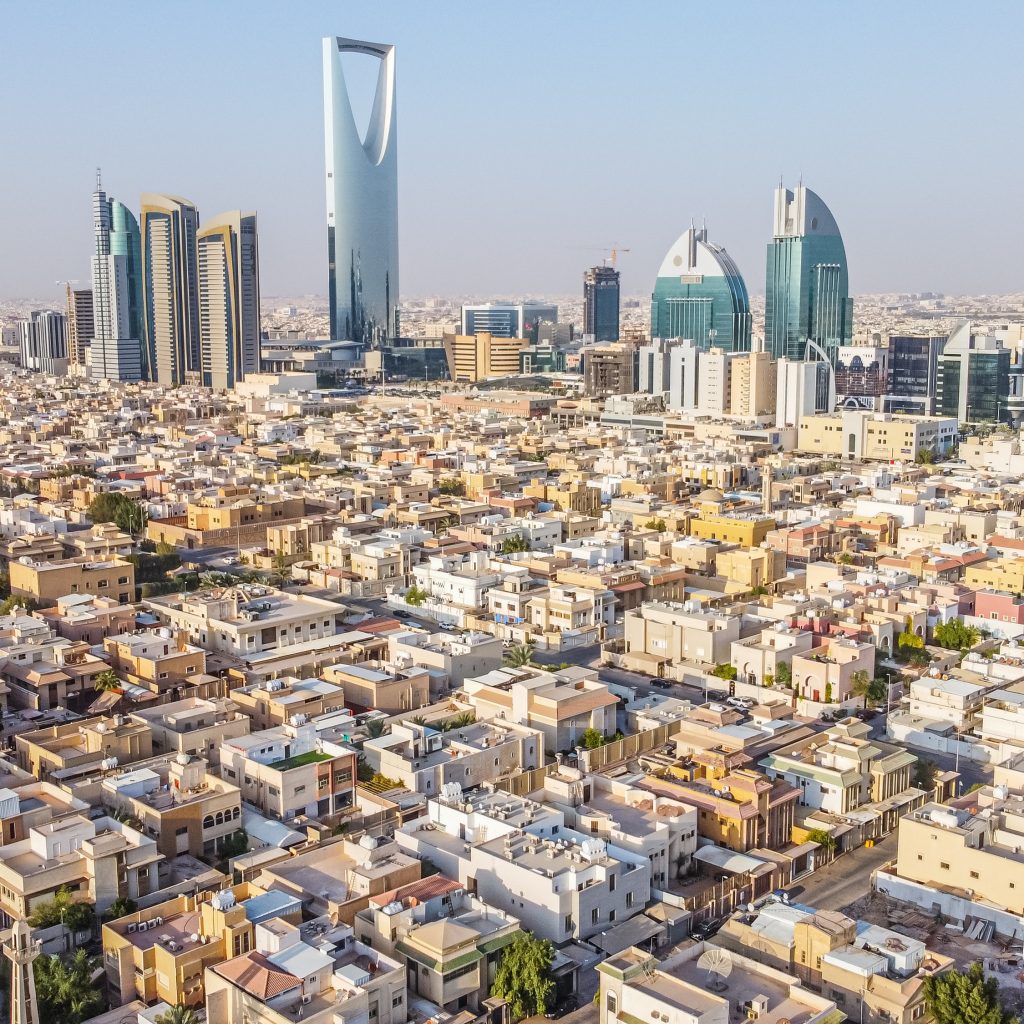 This time of 'handover' in the G20 process is always filled with mixed feelings of gratitude for all that has contributed to the success of the past year along with anticipation for new opportunities opening in the next host country.  That is particularly true this year as we note the remarkable contributions of KAICIID, the UN Alliance of Civilizations, and our Saudi Arabian hosts.
KAICIID took on a particularly heavy role this past year, and we cannot adequately express our gratitude for all that KAICIID's leaders and staff have contributed. We are grateful that the Secretary General of KAICIID, His Excellency Faisal bin Muaammar, can be with us today.  He is the person who directly delivered the recommendations from this year's G20 Interfaith Forum to the Saudi Government, and there could be no one more fitting to participate in this event today.
In addition, we owe profound thanks to the UN Alliance of Civilizations and its High Representative, His Excellency Mr. Miguel Angel Moratinos, and to the Saudi Arabian National Committee for Interfaith and Intercultural Dialogue, headed by Abdullah Alhomaid.
2020's Successes
This past year's event was remarkably successful on many fronts.  The Forum in October brought together more than 2000 Participants from 90 countries, who attended the first-ever virtual G20 Interfaith Forum. 28% of the participants joined from the Kingdom of Saudi Arabia, 14% from Austria, and 12% from the USA. The Forum included 18 sessions spread over five days, and had 147 speakers representing 47 countries and numerous religions. We were proud of the strong representation of women in the various sessions of the Forum.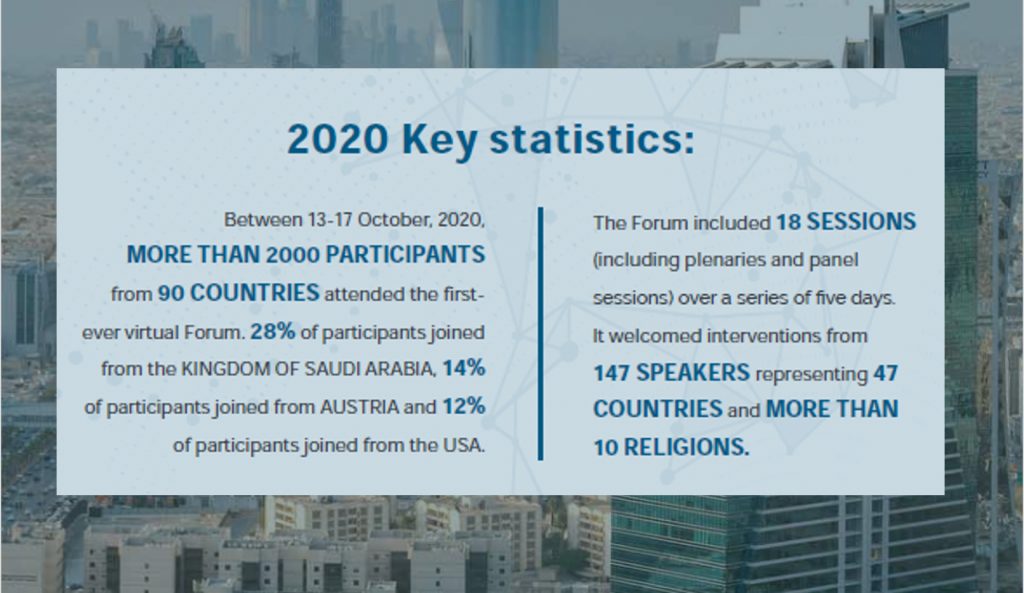 It is also important to note that we achieved a broad and interdisciplinary distribution of participants. 22% of those participating were religious leaders; another 17% came from faith based organizations.  17% came from academia, 17% from intergovernmental organizations, 15% were policy makers, 6% were other experts, and 6% came from the non-governmental organization sector.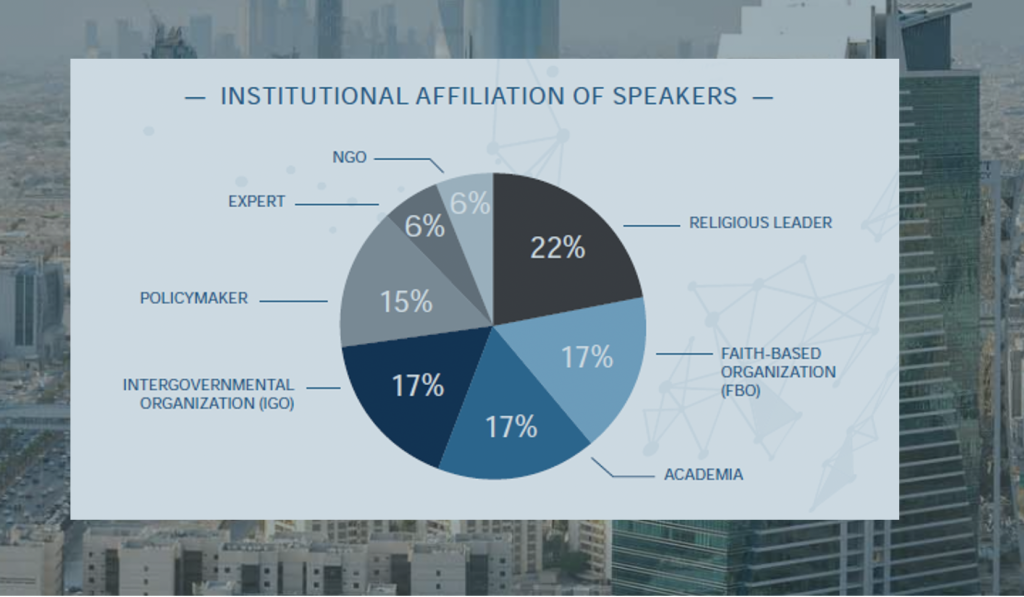 Policy Briefs:
Expert participants helped prepare carefully-reviewed substantive policy briefs on a variety of key topics that helped ground many of the policy recommendations emerging from the Forum.  These included policy briefs on religious roles in responding to COVID-19; hate speech; refugees and forced migration; an interfaith approach to advancing inclusive education; governance and accountability with an emphasis on fighting corruption in COVID-19 emergency situations; modern slavery and trafficking; and interfaith action to protect rainforests.
Regional Consultations:
In addition to expert development of the policy briefs, this year we were able to arrange six regional consultations.  Each had slightly different focuses, depending on regional needs, but all contributed important insights that were distilled into overall recommendations from the Forum and will have continuing relevance as we work on recommendations this coming year.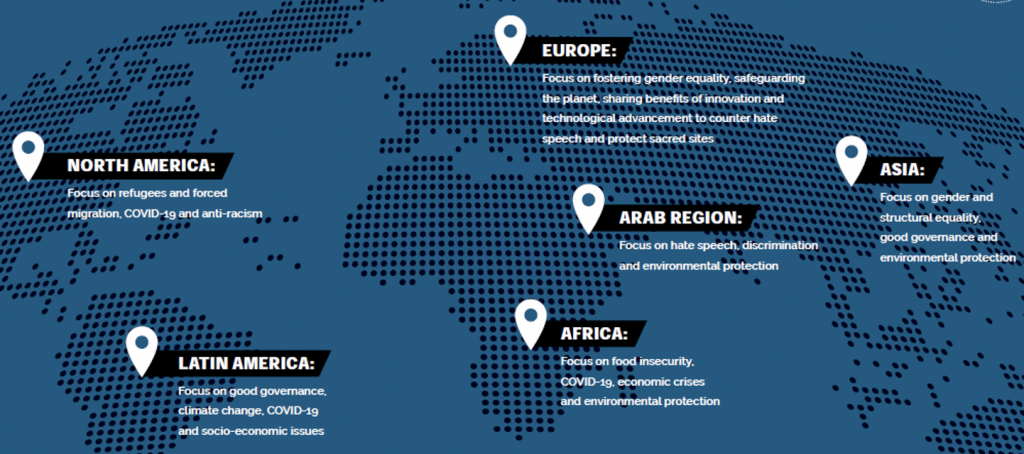 We achieved significant geographical diversity in working on the regional consultations.  Thus, we had representatives from 14 African countries, 14 countries from the Arab region, 18 countries from Asia, 25 countries from Europe, 25 countries from Latin America, plus the United States and Canada.
Recommendations:
All of these inputs were distilled into five clusters of recommendations. These included addressing COVID-19 emergencies, including vaccine issues and the urgent needs of vulnerable communities.
One cluster focused on advancing peace and resolving conflicts, among other things by supporting a global ceasefire during the global pandemic, addressing hate speech, and protecting sacred sites.
A third cluster related to empowering people in a variety of ways, including empowering women and opposing racism.
A fourth cluster addressed the increasingly urgent need to take steps that will protect the planet, including supporting rainforest initiatives and the Paris Climate Change agreement.
Finally, a fifth set of recommendations addressed the general issue of optimizing synergies between religion and the public sector.
Media Coverage:
These intensive initiatives attracted extensive media coverage around the world, including placements in nearly 500 traditional media sources, with a potential reach of nearly 600 million people in 23 countries.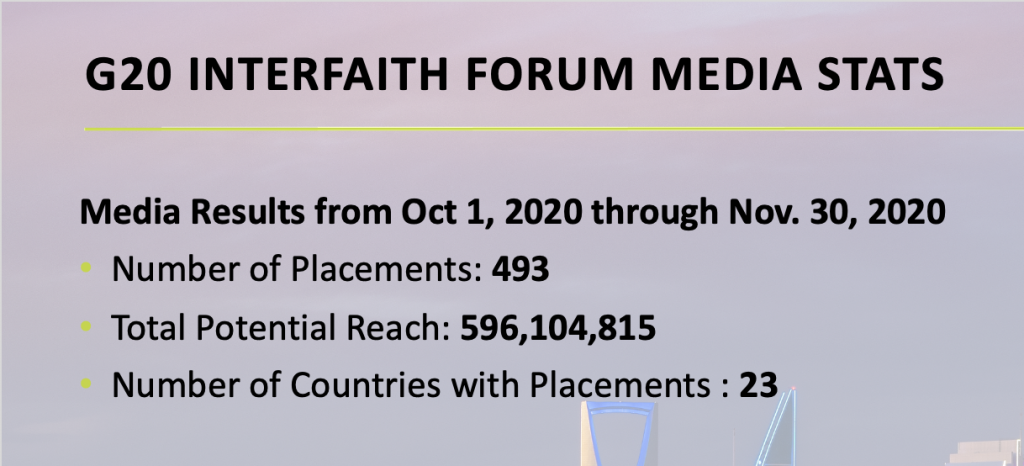 The Associated Press alone placed 52 articles in publications, with a potential reach of 61.5 million.
Examples of placements show coverage of the Vice President of the European Union, the head of the Council of European Rabbis, Al Asheikh from Saudi Arabia, leading cardinals, and not surprisingly, H.E. Faisal bin Muaammar, who is with us today. Still other stories covered the address of Miguel Angel Moratinos from the UN Alliance of Civilizations, and other prominent religious leaders.
Looking Forward to 2021
We have had a remarkable year, but we are looking forward to another particularly significant year as we now move to Italy.  We are grateful for the energy, creativity, and insight of Alberto Melloni, and for the opportunity to partner with his institute, Fscire, which has already been at work developing exciting plans for the coming year.  We have strong hopes that the advent of vaccines starting in the next few days and weeks will mean that by September, we can again have a live meeting, and we hope that as things return to normal, this is one of many areas that we will be able to "build back better."  Thanks again for letting me join with you today, and thanks for the immense goodwill which promises to make our efforts this year even more effective than ever before.
– – –
Cole Durham, Jr., is the President of the G20 Interfaith Forum Association, the immediate past President of the International Consortium for Law and Religion Studies(ICLARS), and Susa Young Gates University Professor of Law and Founding Director of the International Center for Law and Religion Studies (ICLRS), at the J. Reuben Clark Law School of Brigham Young University. He is a graduate of Harvard College and Harvard Law School, and is a founding Editor-in-Chief of the Oxford Journal of Law and Religion.